My 360 commission of the new Switch House extension at London's Tate Modern Art Gallery by Herzog & de Meuron has generated a great deal of interest worldwide. At the end of December 2016, I was contacted by Archi.ru, Russia's leading architectural magazine. They interviewed me about my award-winning 360 and stills work – the thought processes behind shooting my imagery as well as the technical side of how i approach architectural subjects. Archi.ru are based in Moscow, and they have earned a highly regarded reputation working closely with Russia's top architects. You can take a look at the article here (in Russian) : Click Me!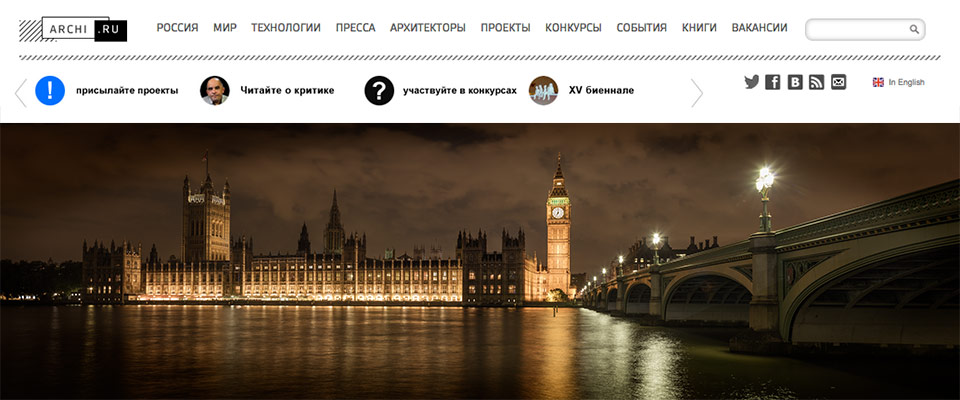 You can also read the full interview as English text only here :
1. When did you start using 360 degree photography, and why?
I first started shooting 360º imagery about ten years ago after I'd received an architectural stills commission for a property development company in Montenegro. I'd never seen any form of 360º imagery before, as it was a relatively new media. I was bowled over, and I instantly recognised its enormous potential. Traditional stills photographs and video only record a small part of the scene, but 360º imagery captures the entire 360º sphere and places architecture in context with its location. This is when I decided to diversify from just shooting stills and started to specialize in high quality 360's and interactive imagery. Traditional stills and video still have their uses, but they also have their limitations.
I consider myself to be a digital multimedia artist who paints light with pixels, not just another mainstream virtual tour supplier with a camera and a computer. I use these photographic skills and experience to breath atmosphere into my 360º imagery, and exhibit an aesthetic sensibility and understanding that is sympathetic to the original vision of the architects.
I've been a professional stills photographer for twenty-five years, but with the advent of digital imagery and the internet, new technological opportunities have opened up. I've always tried to be on the cutting edge of technology and I was one of the first photographers to make my own website back in 1999 – when most computers were still beige (!) I guess I've always been something of a 'Nerd', but it's important to embrace new technology and push the creative boundaries of digital media.
These days, digital stills photography is too easy – the playing field has been leveled with clever cameras that do auto everything. I wanted to offer something different to my clients to stand out from the competition. I endeavour to capture the sense of light and space, the atmosphere as well as the intricate detail and design that architects have taken such great care to create.
When I used to shoot traditional large format photographs, there was always an element of 'Black Magic' in capturing the image on transparency film, but much of this photographic craftmanship has now been lost. Manually shooting 360's requires the same disciplines, as you don't actually see the final image until it's stitched and processed. I also really enjoy the technical and creative challenges of manually capturing a scene in 360 degrees, carefully stitching it all together and publishing on the web.
2. Can you explain in step-by-step terms how you create this sort of image? Including how much time and what equipment/software you use?
I have always strived to produce the highest quality imagery, and I therefore choose to shoot, stitch and render my 360º images using fully manual techniques.
My 360's are incredibly high resolution (288 Megapixels), which allows for an incredible amount of detail that can be experienced using the zoom function on my virtual tours. I use a 50 Megapixel Canon DSLR camera, with a fisheye lens and a Nodal Ninja panoramic tripod head. This equipment allows me to rotate the camera in 60º steps around the 'entrance pupil' of the lens, and helps eliminate parallax and stitching errors. I also shoot the floor (know as the nadir) and the roof (zenith), which allows me to eliminate the tripod and cover the entire 360º sphere. When I finally put all the images together as a 'spherical' (aka equirectangular) panorama, these 360º images are a three dimensional representation of the scene that has been mapped into a two dimensional photosphere.
(Insert 360 jpg image here. My preference is for The Tenth Floor jpg.)
I use many different types of software from Adobe Lightroom and Photoshop, to various HDR blending applications and then painstakingly stitch the images together using PTGui Pro. Each 360º image takes around an hour to shoot and up to four hours to post-process. Sometimes the processing takes longer when complicated masking is required due to ghosting movement or people being in the scene.
I also shoot my images in High Dynamic Range (HDR) to capture the full contrast range of the scene from the deepest shadows to the brightest highlights. I've developed a special technique that utilises a form of HDR compression, and which is of particular importance for rendering high contrast architecture and interior subjects. I work with 32 bit .hdr files and the procedure maps the tones of the image from the high dynamic range of the original scene to the low dynamic range displayed on computers screens. It is these special photographic techniques and attention to pixel perfect detail that help differentiate my work from mainstream virtual tour providers.
Finally, the 360º virtual reality tour then takes about a day or more to produce – depending upon interface functionality, recording voiceovers, adding text, maps, compass, testing and output requirements for web / virtual reality headsets etc. I now output all my 360's in HTML5, which is supported by all the latest browsers and has superseded Adobe Flash Player and Apple Quick Time (VR) Player. I spend an unhealthy amount of time in front of my 'pimped up' Mac Pro which has been specially customised to cope with the enormous layered files sizes I produce – usually about 5 Gigabytes. These are all then rendered and output in multi level tile resolutions so that the online 360's can be viewed quickly on all devices – even mobiles with a slow 3G internet connection.
3. What were the biggest challenges with shooting the Tate? (It would be great to hear any anecdotes you have from the shoot)
The Switch House at The Tate Modern was something of a challenge to shoot due to time restrictions and weather conditions. However, a good professional photographer should be able to produce excellent images even under the most challenging conditions. When I first arrived at the Switch House, it was pouring down with rain and packed full of visitors so I used the time to thoroughly reconnoitre the location, and decide exactly where an when I needed to shoot the following day.
I had taken a great deal of interest in the unusual construction of the Switch House by world leading Swiss architects Herzog & de Meuron. They had originally chosen to build the 'neo-pyramidal shape' with glass as the main material. However, on reflection they decided to work with specially made bricks that matched the original 1950's Bankside Power Station. Ultimately, they created a symbiotic balance of the two materials, which meant that daylight flooded through glass and brick latticed windows during the daytime, and light glowed from within during the night. I tried to capture this unique characteristic by shooting the exterior at dusk when the light levels were balanced between night and day. I also knew that the black tarmacadam and stone surface would look like mirror glass sprinkled with flakes of gold if only the rain would stop and the wind would subside. So I waited … and waited. Slowly all the elements started to play into place, and the reflections of the ambient lights glistened yellow on the hard, dark surface. It was a special moment and it reminded me of the times when I used to shoot landscapes and I waited for the play of light upon the scene. It's this photographic knowledge and cognition that allows me to apply similar aesthetic principles to capturing the spirit of the place and its sibling relationship with the buildings that surround it.
The staircases are also an important architectural part of the Switch House. They are like sculptures, and made from the concrete that forms an intrinsic part of the industrial Tanks at the base of the new building. I'd seen professional photographs of these features but, since they are limited to two dimensions, they fail to communicate to me in the way that 360º imagery can. I also added a human element to indicate a sense of scale, and iterate the fact that the architects had intended this to be a living building that was made as a social space and not just a monument or museum.
Finally, the breathtaking views of the ever-changing London skyline that can be seen from the tenth floor, owe their existence to the 360º Herzog & de Meuron panoramic design and open terrace construction. Weather conditions didn't really work in my favour as I had planned a blue sky with warm sun light cascading over the conurbation, but it was a typically overcast English Summer's day and a pretty stiff wind at that height that made generating all the HDR images a headache. Stability problems and camera shake are exacerbated when zoomed in to 100% on 288 megapixel images, so there is little room for error or the images can appear less sharp. There is also a need for the delicate balance of colour and tones when using HDR conversion techniques. It's easy to 'over cook' the image and make the image look unnatural and surreal. This can be great when that's the effect that you want, but it takes skill, sensitivity and an intimate knowledge of HDR techniques to get the perfect result for an architectural project. I needed a contemporary, moody look that said 'London' and I hope that I've managed to convey this gritty, urban atmosphere in the final 360º image.
4. What is the future for this type of photography, in your opinion? Stills, video, iPhone
Interesting question … and one have spent much time pondering over. I don't have a crystal ball but I wasn't wrong ten years ago when I predicted an evolution in online media and I moved away from traditional print – it just made sense, as the future is inexorable. Archi.ru, Dezeen and Arch Daily are perfect examples of this.
360º stills imagery is fast developing with VR and is becoming ubiquitous. Even Getty Images have just opened a 360º stock photo and VR dept, Facebook and YouTube also now support 360º photos and videos, and other social media sites are set to follow. 360º media is becoming mainstream, so these are exciting times, which will open up great opportunities for us all.
360º stills imagery is a relatively mature media and already photo quality realistic, so it has enormous advantages over lower quality 360º video and computer generated imagery (cgi) – both of which are still very much in their infancy. The resolution will come, but I predict that it will be at least five to ten years before it reaches the same quality my 360º stills have today.
Having seen how digital stills technology progressed from its genesis, the incremental quality gains were relatively slow and took years. Also, for static subjects like architecture and property, you don't want or need video and cgi still looks like video game animation. High resolution 360º VR video also has bandwidth limitations, which is a major concern for online distribution. It would be necessary to have 24k video to reach the same resolution as my 360º stills images (which are 24,000 x 12,000 pixels in size), and most people still have problems viewing 4k on YouTube!
The concept of 360º imagery is rapidly gaining momentum. There are several 360º cameras being developed, but they are only really suitable for amateur snapshots, Google Street view or forensic work to simply record a crime scene. You can even shoot 360's on an iPhone (using the free Google Street View app), but of course there is a wealth of difference in quality to the fully manual techniques and professional grade equipment that I choose to use. You simply can't do any professional photo shoot on an iPhone yet! My method is more labour intensive, but a manual approach by an established professional will always produce better results. If a job is worth doing, it's worth doing properly.
360º imagery is the future, and the future is here now if you want to take advantage of it …
For more examples of my international, award-winning, architectural stills and 360º imagery please view my online portfolio : rodedwards.com.
---