It is with great sadness, that we have recently learned the news of the passing of Her Majesty Queen Elizabeth II. Today is a National Bank Holiday for her State Funeral.
Her Royal Highness was a truly inspirational woman, who led Great Britain and the Commonwealth, through many years of dutiful royal service. Like many, I have the greatest respect and admiration for the late Queen, she will be sorely missed, and the world will never be quite the same without her.
A few years ago, I had been fortunate enough to formally meet HM the Queen Elizabeth II to take her official photograph celebrating the Silver Jubilee at Sandringham House. It was an opportunity that I greeted with honour and enthusiasm. It was a rare chance to have a personal introduction to one of the world's most famous people, and a chance to capture her portrait and character on film.
I have been asked many times about the experience, so I felt it may be of interest for me to share my story…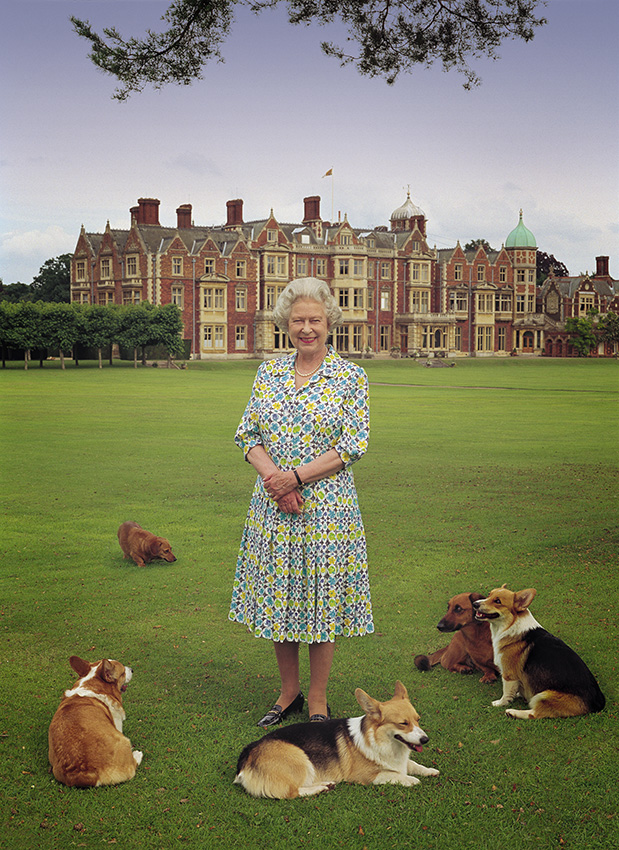 Having already been commissioned to shoot images of Sandringham House & Estate for their annual Visitor Brochure, the Estate Manager asked if I'd be happy to have a one-to-one portrait session with the Queen. I met the request with both excitement a little trepidation, but wilfully grasped the opportunity.
With all the details and necessary permissions arranged, the big day soon arrived. I turned up at the Estate Office with my camera, tripod and a bag full of high expectations.
"Hello, I'm Rod Edwards, I'm a photographer … I've come to shoot the Queen!" I said to the secretary at the office reception. I was met with the worried retort:
"Oh my God, I do hope not!"
Realising what i'd just said, I quickly rephrased my introduction, excused my nerves and we proceeded with the security check.
It was an overcast afternoon but very bright. I'd already decided on the composition from a previous recce, so it was just a case of setting up and patiently waiting for Her Majesty to arrive.
After what felt like an eternity, I saw a small figure appear in the distance, escorted by an entourage of corgis. Blimey … it was Her Majesty The Queen!
She walked over to me, we shook hands and I formally introduced myself, giving her a copy of one of my books. She thanked me and seemed genuinely thrilled by my gift. I respectfully directed her to stand in the right position, and started firing off a few frames. She looked so solemn and serious, and the resemblance to her stern grandmother Queen Victoria was quite striking from certain angles.
I knew how tricky it was to work with animals, so I'd envisaged photoshopping in the royal corgis on the final image. I expected to shoot several frames to get the dogs to appear natural, and I fired away a few more frames. Her Majesty the Queen didn't talk much, so I felt I needed to try and break the ice with a little conversation:
"I hear the Royal Corgis have a bit of a taste for photographer's ankles?" I asked as the dogs scurried around my feet. She laughed, replying:
"Well I don't know about that, but one of them took a bite out of a policeman this morning, and he had to go to casualty!"
One of the royal corgis cocked his leg on my camera bag and started to do what dogs often do when you'd rather they didn't. I heard her snap:
"Cider, will you stop doing that..!"
Cider looked up and scurried off in the other direction, leaving a damp patch on my camera bag.
I felt I'd already captured a decent image, but I continued shooting as Her Majesty seemed to be very relaxed and amenable. I had the feeling that she'd done this type of thing before!
However, it all seemed a little too formal, and I didn't quite feel that got what I was looking for – a warm and welcoming image for the front cover of the Jubilee Guide. I needed Her Majesty to smile, but wondered if it would be appropriate or punctilious to make such a request? The words of Del Boy Trotter came to mind:
"He who dares wins Rodders!"
I knew I had to make the most of this great opportunity, so I asked:
"Would Her Majesty mind giving me a smile for a few shots please?"
There was a pregnant pause that felt like it lasted for an eternity. I looked over at the Estate Manager, who looked at me with a horrified face and shook his head to say "You're aren't supposed to ask the Queen that!"
The Queen looked at me, the pause continued, I looked back at her as she reflected upon my request. The pause continued, then she replied:
"Hmm…yes, I don't see why not…I think the tourists will like that."
Click! … and the shot was in the bag!
I knew from experience that I'd captured the moment I'd been waiting for, and my work there was done. What a great lady, what a great experience and what a great opportunity it had been.
The final image was received with considerable acclaim. It was published in the Sandringham House & Estate Jubilee Brochure, and more recently was added to The Royal Collection in London.
Her Majesty Queen Elizabeth II will be sorely missed, but her memory will live on, and my humble encounter with royalty will never be forgotten.

---