I've been working in the tourism photography industry for about twenty years, and I've been one of the main stills photographers for Visit Britain for the last fifteen. However, as much as I love the UK, and as any photographer will know, variety is the spice of life and we all get itchy feet …
A short while ago I therefore decided to embark upon a bit of a personal adventure and explore the badlands and backroads of Southern California. I love shooting personal photography projects as they give me unlimited creative freedom, and the chance to show my clients what could also be achieved from a commission.

A 360 degree panoramic stills photograph of the sun setting over the salt formations at Devil's Golf Course in Death Valley National Park, California, USA
I stayed in California for about ten days, living the wanderlust dream and travelling from hotel to motel. I'd done a certain amount of planning for locations, but enjoyed the excitement and the spontaneity of just waiting to see what was around each corner of my road trip. It's a wonderful way to travel, experiencing life and meeting fascinating people along the way. Something of an adventure, but at the same time i had commercial intentions as i wanted to put the experience together in a 360 degree interactive virtual reality tour.
As I think you will see from the 360 tour, this part of the world is simply a photographer's paradise. The landscapes of Death Valley are out of this world, almost alien, and with LA being so close, it's little wonder they have been used in so many Hollywood space films and tv shows. The Redneck Roadtrip tour gives viewers the chance to become armchair virtual reality visitors and experience my roadtrip in the comfort of their own home. It even works on Google Cardboard and similar VR headsets using your mobile phone. This is an area i'm expecting to develop further as VR technology is snowballing in popularity each and every day. I'm now working on a VR project with sound too.
Click image below to take the interactive 360 degree tour …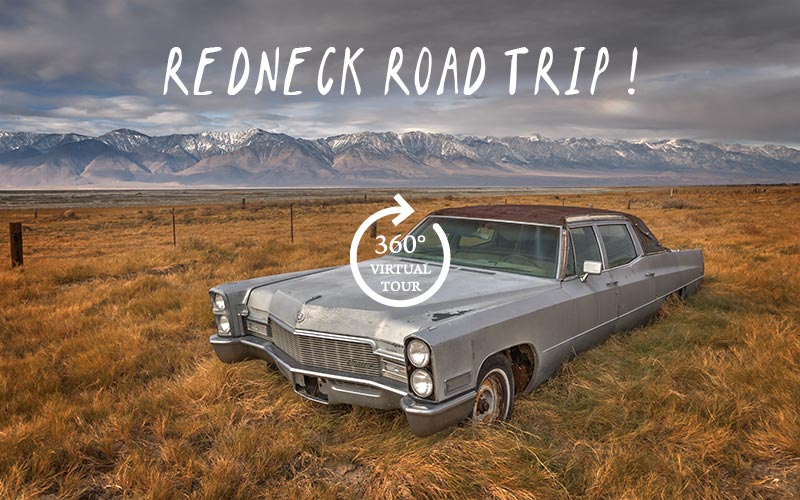 The Redneck Road Trip, a 360 degree virtual reality tour across the badlands and back roads of California.
My web team and I carefully designed the 360 virtual tour interface to take the form of an interactive road trip across the badlands of California. The virtual reality tour contains a custom made, hand illustrated map of the area, an information panel describing key features of each location and real location audio recordings. It shows a total of ten places and the 360 images are about 16,000 x 8000 pixels in size making 128 megapixel file size. A good level of detail, but now i've upgraded my camera i can produce 24,000 x 12,000 pixel equirectangular images which are an incredible 288 megapixels each.
As a professional landscape and location photographer, I've honed my skills to produce arresting and eye-catching travel imagery for many years. Unlike most mainstream 360 virtual tour suppliers, I apply these photography skills to my 360 imagery to produce work that i hope sets me apart from the rest. I shoot all my 360 photographs using painstaking, manual techniques, as there are still no automated 360 camera that can produce this level of high quality.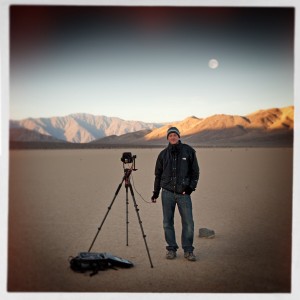 The Racetrack at Death Valley National Park in California, USA. Showing my trusty Canon 1Ds3 workhorse, Canon's 8-15mm fisheye lens and my Nodal Ninja 5 panoramic head.
Interestingly enough, personal work often merges with commercial work and last year some of the 360 panoramas were licenced by a big VR advertising agency in Georgia, USA. They used three of the images in an online campaign run with Coca-Cola, Xanterra Hotels, and Regal Cinemas promoting U.S National Parks. See my other blog post here for more information …
https://rodedwards.com/official-campaign-for-coca-cola-regal-cinemas-and-xanterra-hotels-promoting-usas-national-parks/
---