I'm really excited to announce the launch of a personal project, that's now being released commercially. Its been a long time in production, but I believe it has been worth the blood, sweat and tears I've shed. Welcome aboard the VR Tour Bus – London!
Experience some of London's top visitor attractions, and famous city views, in this amazing 24k resolution, 360º virtual tour of London. Explore the sights and sounds of this magnificent city, with real location sound recordings, educational text, inspirational photographs and classical artworks.

Licensed by Transport for London (TfL), the VR Tour Bus is a 360º virtual tour that allows users to travel around the city, and to view many of the historic locations that our incredible capital has to offer. From the soaring towers of the financial districts, to the world-famous museums and relaxing riverside views, there's something to delight people of all ages.
The 360º virtual tour gives users the opportunity to experience the sights and sounds of thirty-six iconic London locations, including Buckingham Palace, the Millennium Bridge, Covent Garden, St Paul's Cathedral, Tower Bridge, Trafalgar Square, the British Museum and many more. Whatever the weather or travel situation, the VR Tour Bus can transport you to this wondrous and cosmopolitan city, all within the comfort of your own home.
The VR Tour Bus 360º online virtual tour uses a standard web browser, so it works with desktop computers, laptops, iPads, tablets and smartphones. The free online demo can be viewed at www.vrtourbus.co.uk/demo. Users can unlock the full tour via Paypal by purchasing virtual tickets for RRP £9.99.
Alternatively, and for an even more immersive experience, you can buy the official VR Tour Bus virtual reality viewer. The viewer includes the VR app for free (RRP £9.99), and works with your Apple and Android smartphone. Together, they give a breathtaking, 360º virtual reality experience that's inspired by Google Cardboard VR technology. The official VR Tour Bus viewer and app are available for purchase direct from Amazon for RRP £19.99. Currently discounted by 25% for one week only RRP £14.99.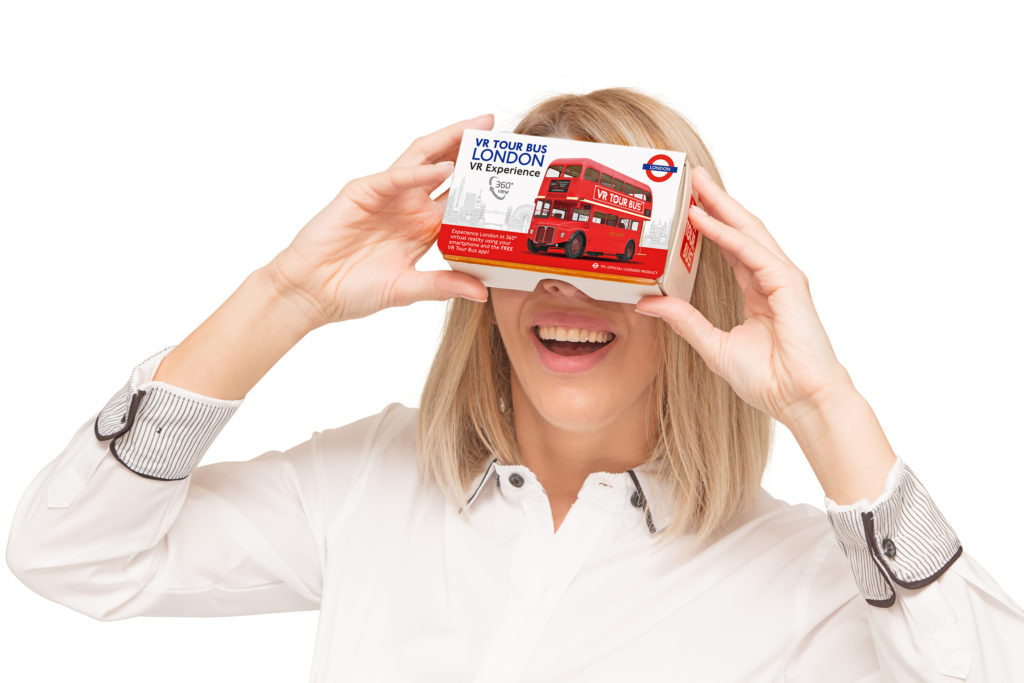 Both the Apple iPhone and Android smartphone VR apps are also available independently for use in all Google Cardboard VR viewers. The VR apps include the free demo, which can be unlocked via In-App Purchase for RRP £9.99.
The Apple VR app works with iPhone 6 or later running iOS 12.4 or later. The Android VR app works with most Android smartphones running Android 5 or later. Please check that your Android smartphone has a built in gyroscope sensor for VR mode. To keep app size to a minimum (less than 5mb), the VR Tour Bus constantly streams data, so a reliable internet connection speed of at least 10 Mb/s is also recommended.
I am delighted to have collaborated with Transport for London in creating the VR Tour Bus. 360º virtual tour technology is incredible, and it opens up opportunities to experience and share London with a global audience of armchair travellers. Virtual visitors will be able to see and hear London's popular sights, whilst also learning more about its rich history, diverse culture and influential heritage. The VR Tour Bus online experience brings London to your living room, and the VR Tour Bus viewers are the perfect gift or souvenir for anyone who loves London.
Ellen Sankey, Brand Licensing Manager at TfL said: "London has so much to offer to so many, and thousands of people travel to London to see the city from tour buses, to get a glimpse of the capital's vast culture and history. While nothing can beat exploring London by bus in real life, we're delighted to be partnering with VR Tour Bus as it gives people across the world a new, innovative way to experience the city, and virtually enjoy some of the wonderful places London has to offer."
To learn more about the VR Tour Bus, and to take a ride on the free, online demo tour visit www.vrtourbus.co.uk.

---