I was recently invited to give a presentation to the team at Caro Communications, a leading London PR agency who specialise in promoting architecture, interior design, culture and real estate projects worldwide. Following the presentation, Caro interviewed me about my 360 degree online virtual tours, and why 360 imagery and virtual reality photography is now so apposite and helpful to these sectors of industry.
1) When did you first start shooting 360 imagery, and what sort of clients have you worked for?
I first started shooting 360 imagery about thirteen years ago after I'd received a photographic commission from a property development company in Montenegro. They primarily asked me to shoot stills images, but they introduced me to the concept of interactive 360 media and asked if I'd also try shooting some. I instantly recognised its enormous potential for promoting locations, and for showcasing architectural, real estate and interior design projects. It was at that point that I decided to diversify and specialise in 360 imagery.
In 2009, I introduced and pioneered 360 imagery to The National Trust, and they commissioned me to shoot a 360 virtual tour for an international advertising campaign called "A Giant's Cause". It was to help to promote the Giant's Causeway, a UNESCO World Heritage site in Northern Ireland. The imagery was so well received, that I became the sole approved supplier of 360 imagery for the NT, and I now work closely with them on many of their fabulous and unique properties.
In 2015 I then introduced and pioneered 360 imagery to Visit Britain for their "Britain Is Great" Campaign, and we shot a number of incredible tourist locations around the British Isles. Soon after this, we worked closely with Sony Pictures in Hollywood to help promote filming locations for the James Bond 'Spectre' movie, and the Visit Britain "Bond Is Great" international campaign.
Earlier this year I worked with Coca-Cola USA, Regal Cinemas and Xanterra Travel Collection promoting some of the US National Parks for their very first online 360 campaign. More recently, I was interviewed by, and profiled in Dezeen, ArchDaily and Archi.ru in Russia. I'm now concentrating on promoting my 360 services to the architecture, real estate and interior design industries.
2) What advantages do online 360 imagery and virtual reality (VR) experiences have over traditional stills photography and video?
Online 360 virtual tours and VR imagery are the perfect media to showcase, share and experience architectural, real estate and interior design projects. Obviously, traditional stills and video do have their uses, but they also have their limitations. Stills and video techniques focus upon isolated elements and only record a small part of the scene. However, 360 imagery captures the entire 360 view and places the product in context with its environment.
I've actually been a professional stills photographer for over twenty-five years now, and I use my skills and techniques to create the highest quality 360 interactive digital media. This photographic experience allows me to breath atmosphere into my 360 imagery, and it also enables me to communicate an aesthetic sensibility and an understanding that is sympathetic to the original visions of the architects and designers. There is no better way to convey and impart the feeling of light and space of a location than with my high quality immersive, 360 virtual reality tours. Most virtual tour suppliers do not have a strong photographic foundation, and it's this creative and artistic knowledge that differentiates my work from mainstream virtual tour suppliers with just an automated camera and a laptop computer.
My 360 stills imagery can also be incorporated into incredible and affordable virtual reality headset experiences. This technology allows you to remotely showcase and share your completed projects with your global client base. I work with industry leading software developers who help me to create these high quality and affordable virtual reality headset experiences. These tours are custom made for each project and can be viewed on any VR headset from the cheap Google Cardboard, to Samsung Gear VR, Oculus Go, and even high end Oculus Quest headsets. It's no longer necessary to plug in your VR headset to a powerful computer and have wires coming out of your ears, as these headsets are now fully independent.
Another great advantage of using virtual reality technology, is to showcase your company's portfolio of old projects to new clients. Once a project has been completed, it is often difficult to gain access to private locations, since they become occupied. However, by using VR tours, new and potential clients can experience your completed projects remotely, from anywhere in the world, at just the click of a mouse or the nod of a VR headset. The marketing implications of this high-impact technology are huge, and the latest industry statistics support this. Now is a great time to utilise this technology, and get one step ahead of your competition …
3) Can you tell us about your 360 imagery, and explain how you create the 360 media?
My 360 online virtual tour imagery and virtual reality tours are quite unique, and I try to push the technical, creative and artistic boundaries of this technology with every new project. My 360 images are ultra-high-resolution 265 megapixels (265mp). This isn't just the 4k (7mp) or 8k (29.5mp) image resolution that's produced by most automated 360 cameras, but an industry-leading 24k (23,040 pixels x 11,520 pixels!) This allows for an incredible amount of detail that can be viewed using the zoom function on my web based virtual tours. This unrivalled resolution allows architects and engineers to closely inspect materials, renderings and the techniques used in the construction process.
I have always strived to produce the highest quality imagery, and I therefore normally choose to shoot, stitch and render my 360 photographs using fully manual DSLR techniques. Even the best, automated 360 cameras can still only deliver mediocre results. Their small sensors and lenses distort the photographs, exhibit digital noise, produce stitching errors and create excessive banding – all of which cannot be corrected, and these compromises produce inferior results. In my opinion, important projects deserve the best quality, and I believe that if a job is worth doing, it's worth doing properly.
I can also shoot 8k 3D 360 video, but I choose to produce stills for static subjects such as architecture and interiors, as the motion technology just isn't quite good enough yet. Even the best 360 video cameras still exhibit lens distortion (especially on the ceiling and the floor), and they simply cannot record the resolution nor the enormous contrast range that my high dynamic range (HDR) stills imagery can impart. Playing back high quality 8k 360 video is also still a problem, and is likely to remain so for several more years, until technology improves and the necessary hardware becomes more affordable.
I use a 50 Megapixel Canon DSLR camera, with a fisheye lens and a special panoramic tripod head. This equipment allows me to rotate the camera in 60 degree steps around the 'entrance pupil' of the lens, and eliminates parallax and stitching errors in the finished images. I also shoot the ceiling (known as the zenith), and retouch the floor (know as the nadir), which eliminates the camera tripod and fully immerses the viewer inside the entire 360 sphere. When I finally merge all the images together as a 'spherical' or 'equirectangular' panorama, these 360 images are a three dimensional representation of the scene that has been mapped into a two dimensional photosphere.
I also shoot my 360 stills images using High Dynamic Wide Range (HDWR) techniques, to capture the full contrast range of the scene. This approach is particularly important for interiors, where the exposure range sometimes spans twenty-two stops from deep shadows to bright exterior highlights. I've developed a special technique that utilises a form of contrast compression, and I work with 32 bit .hdr files that remap the original tones of the image so they can be displayed on normal computers screens. Once again, it is these special photographic techniques and attention to pixel perfect detail that helps to differentiate my work from mainstream virtual tour providers. Architects and developers spend a great deal of time and money on realizing their visualizations, so cutting corners on quality at this stage is simply false economy.
Finally, having processed the photographs, the 360 virtual reality tour then takes about a day or more to post process – depending upon interface functionality. Each interface is custom made and can include audio and voiceovers, text boxes, maps, GPS, floor plans and even a compass to track the position of the sun. Each tour is then fully tested to meet the necessary, high quality output requirements for web and virtual reality headsets.
4) Can you tell us about your commission shooting the Tate?
Every project and every commission I receive is always different to the last. Ideally, I like to reccy the location to get a feel for each individual space, and then I decide how best to photograph it. I treat 360 imagery very differently to mainstream virtual tour suppliers as I'm a photographer, and I want to achieve more than a standard record shot of my subject.

I had taken a great deal of interest in the unusual construction of the Switch House by world leading Swiss architects Herzog & de Meuron. It's a unique building, and although they had originally chosen to build the 'neo-pyramidal shape' with glass as the main material, on reflection, they decided to work with specially made bricks that matched the original 1950's Bankside Power Station. Ultimately, they chose to create a symbiotic balance of the two materials, which meant that daylight flooded through glass and brick latticed windows during the daytime, and light glowed from within during the night. I chose to capture this unique characteristic by shooting the exterior at dusk, when the light levels were evenly balanced between night and day. It had been raining, so I also knew that the black tarmac and stone surface would look like mirror glass reflecting golden stars against a dark sky. As I waited, all the elements started to play into place, and the reflections of the ambient lights glistened yellow on the hard, black surface. It was a special moment, and it reminded me of the times when I used to shoot landscapes and I would wait for the play of light upon the scene. It's this photographic knowledge and cognition that allows me to apply similar aesthetic principles to capturing the spirit of the place and its sibling relationship with the buildings that surround it.

The staircases are also an important architectural feature of the Switch House. They are like sculptures, and made from the concrete that forms an intrinsic part of the industrial Tanks at the base of the new building. I'd seen stills photographs of these features but, since they are limited to two dimensions, they failed to communicate to me in the same way that 360 imagery can. I also chose to add a human element to indicate a sense of scale, and iterate the fact that the architects had intended this to be a 'living' building that was made as a social space and not just a monument or museum.

Finally, I wanted to also capture the breathtaking vista of the ever-changing London skyline that can be seen from the tenth floor of The Switch House. Weather conditions didn't really work in my favour, as I had planned a soft, blue sky with warm sunlight cascading over the conurbation. However, it was a typically overcast, English Summer's day, and the stiff wind at that height made generating multiple HDR images something of a headache. There was also a need to delicately balance the colour and tones when using my HDR conversion techniques. It's easy to 'over cook' the image and make the image look unnatural and surreal. This can be great when that's the effect that you want, but it takes skill, sensitivity and an intimate knowledge of HDR techniques to get the perfect result for an architectural project. I decided upon a contemporary, moody look that said 'London', and I hope that I've managed to convey this gritty, urban atmosphere in the final 360 image.
5) So how do we experience your tour of the Tate in 360 VR and what equipment do we need?
If you've never tried virtual reality before, do believe the hype – it's simply incredible. The experience is so real that you can sometimes forget it's just a digital simulation, and you will completely lose yourself in the virtual environment. If you buy an affordable VR headset such as Oculus Go and download my Tate Modern VR tour app (links below), you can see this with your own eyes. When viewing London from the Tenth Floor balcony, make sure you stand up, and you will actually feel a sense of vertigo as you look down from the high viewing platform across the London skyline. Turn the office fan on and you'll even feel the cool, stiff breeze! ☺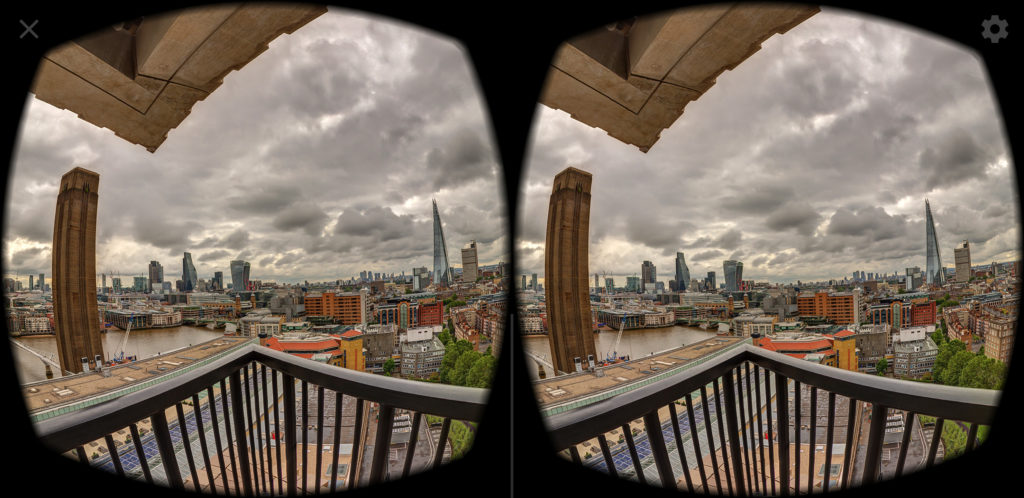 VR technology used to be expensive, but my tours are very affordable and can even be sampled using a cheap Google Cardboard VR headset and any recent mobile smart-phone. The latest smart-phones have high-resolution displays and fast internal processor and are like miniature super computers, they are the perfect economical introduction to the world of VR.
Last year, Oculus also introduced their standalone VR headset, the Oculus Go and this year the Quest. These headsets work without connection to a fast PC or even a mobile smart-phone, and this has opened up convenient and affordable VR technology to the masses.
I believe that every architectural, real estate and interior design practice should have access to affordable VR hardware like the Oculus Go (£115.83 plus vat), as this technology is such an effective way to showcase your portfolio of projects and communicate your visions.
To view our VR portfolio, please download our mobile app for your smart-phone or Oculus VR headset.
And here are my recommendations for VR headsets …
Google Cardboard (Amazon £6.66 plus vat) – A cheap introduction to VR technology that is powered by any simple smartphone and gives surprisingly good results. The newer your smartphone, the better the quality. They can also be custom printed with company branding:
VR Primus VA4 (Amazon £31.66 plus vat) – The next step up from a cheap Google Cardboard is a plastic VR Primus or similar. Once again, the headset uses a mobile smartphone (up to 6.2″) for a cheap introduction into virtual reality. This model is particularly good as it adjusts focus for user's eyesight, as well as for left and right eye distance (Inter Pupilary Distance). It also has a very wide 120 degree field of view, and the lenses are far superior to Google Cardboard:
Oculus Go (Amazon £115.83 plus vat) – In my opinion, this is the best introduction into viewing and experiencing 360 virtual reality and VR tours. It allows for an entire VR operating system experience, immersing you into the world of virtual reality with all its features. The headset has a sharp, high resolution display, requires no smartphone, is fully independent (no wires) and is even rechargeable. As of January 2020, the Oculus Go 32Gb just had a £60 price drop from RRP £199 to £139 inc vat. The 64Gb version is also available for a little more money (£157.50 plus vat). Both are exceptional value, and the perfect introduction into the world of VR :
If you would like to order a personal VR demonstration, or to commission me to shoot your forthcoming project, please contact me to discuss your requirements. Whatever your project or campaign, my team and I can work together to supply the highest quality imagery, with a personal service, and without those big agency prices.
To view more examples please visit my Interactive 360 Virtual Tours page.
360 virtual reality imagery is the future, and the future is here now if you want to take advantage of it …
---